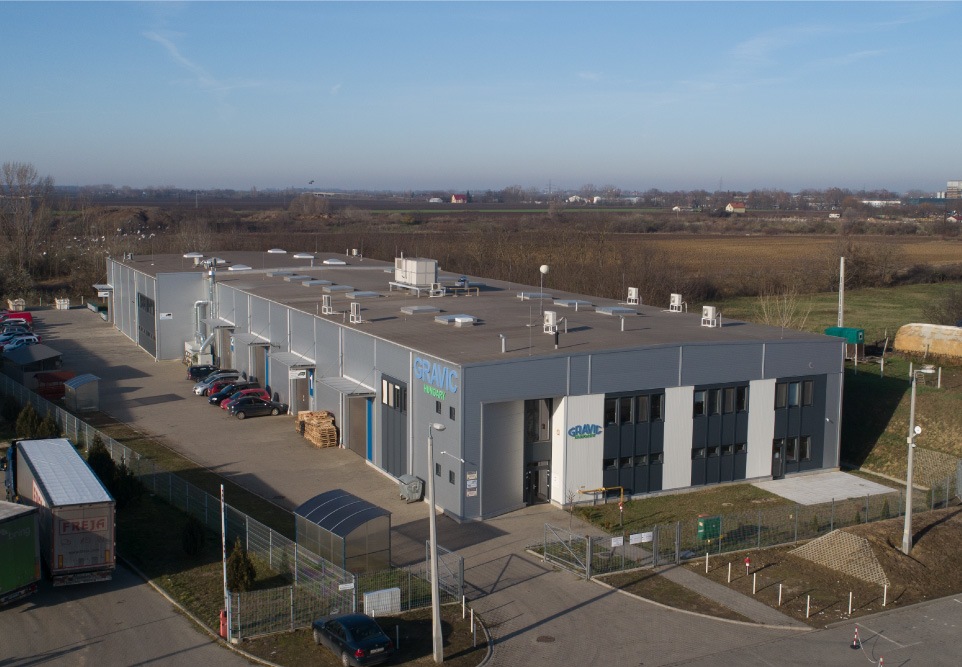 Zoom in Gravic Hungary
Gravic Hungary is located in the historically and culturally rich city of Debrecen (the capital of Hungary's Northern Great Plain region and its second biggest city). The factory opened in 2005 and we have moved to our current building in 2013.
We like to refer to Gravic Hungary as our Eastern European tiger, thanks to our highly motivated team members who are eager to exceed your most ambitious and innovative project expectations.

Our biggest success and strength is our team
At the core of Gravic Hungary's success there is a team of 80 happy and motivated people. We have a very low staff turnover.
Most of our employees have been with us for over 10 years. People enjoy working in our friendly and informal environment. It's this human factor that is our biggest secret – our staff feel valued, motivated, listened and considered. They see a clear career path for themselves. There is also very little turnover at the top, so we can depend on each other, build trust and good, long-lasting working relationships. In fact, the best example of our people culture comes right 'from the top': "I consider the employees, I treat them as I would like to be treated", says Vincent Zink, the General Manager of Gravic Hungary. "When customers visit us, they always mention on our feedback forms that they see our people are motivated and they feel a very positive atmosphere". "That's because people enjoy their work here", he adds.
Vincent Zink, our General Manager, tells us more about Gravic Hungary:
Our sectors and industries
Gravic Hungary manufactures products for all our main sectors and industries, except for the cosmetics industry (which is done by Gravic France).
We operate along the geographical lines working mainly with the customers based in Hungary (about 35%), other European countries (60%), as well as Rest of the World, e.g. Mexico, Brazil, USA, China (5%).
Investment flexibility and growth strategy are keys to our impressive performance
Right from the start we've adopted a very aggressive growth strategy. We've always:
built in more capacity than what's needed,
planned for big growth of turnover,
anticipated and delivered yearly growth of 10-20%
hired extra resources, even if they were not used immediately, but in anticipation of the following year's growth
bought new machinery in anticipation of future orders "we'll win"
As Gravic is a family owned business, we make the investment decisions fast when it comes to staff, machinery and technologies. We don't have to wait for the end of the year budget, investors approvals etc.. We can invest or change direction from one day to another.   
For 2021 we hope to continue to grow. We have plenty projects and orders in the pipeline already!
All this is additionally fueling the motivation of our staff – each year there are new technologies, machinery, challenges and new things to learn or to sell to our customers. Things are always changing in a positive way at Gravic Hungary.
Effective communication helps
At Gravic Hungary we all speak English, but you can most probably speak with us in your own language too, because we also have French, German, Italian, Hungarian, Romanian, Czech, Slovak and Polish speakers. Now we think that's impressive, don't you?
To find out how you can improve your life with Gravic Hungary contact our expert now for a quote.
We have also created this short film about Gravic Hungary.
We hope you'll enjoy it!