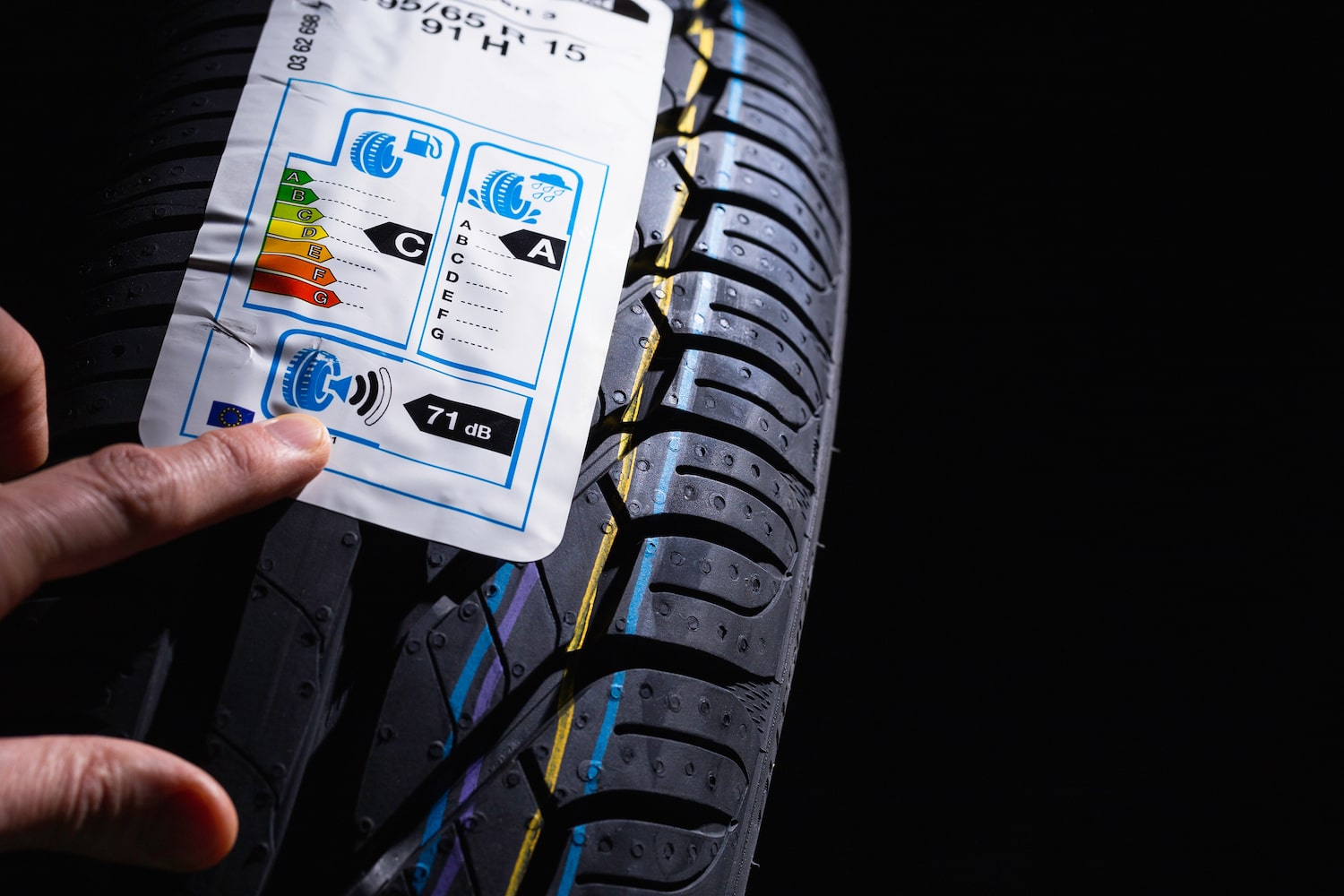 Tire energy labels
Do you struggle finding a manufacturing partner who can pre-print a variety of high quality tire energy labels that you can vulcanise onto the tires?
Do you want to be in control of the changing barcodes, ensure that they meet your strict requirements and are never repeated?
Do you search for a manufacturer with local presence and technical support necessary for such a challenging application?

Pre-printing vulcanised tire tracking labels to customer's strict requirements cannot be done in house and is therefore managed by specialist companies, such as Gravic.
This challenging process requires specialised materials that can endure the pressures and temperatures they are exposed to during the vulcanization process (up to 200°C). To ensure that the information printed in the label will be readable even under extreme conditions, labels must be printed using the right combination of thermal transfer printer and ribbon.
It's also vital that the barcodes follow your set parameters and are not repeated (no 2 codes can be the same).
Gravic can provide the most suitable solution for every step of this process.
Tire energy labels
Tire energy labels help us make informed decisions when it comes to buying our tires, because they provide a clear and common classification of their performance when it comes to:
rolling resistance – ranging from A (most efficient) to G (least efficient). Choosing an 'A' tire

 

helps you reduce your energy costs (fossil fuels or electricity) as there is less rolling resistance and less energy is required to move the vehicle.
braking on wet surfaces – ranging from A (shorter braking distance on wet asphalt) to G (longest).
external noise – ranging from A (less noise outside the vehicle) to B (more noise, with noise levels in the C class not allowed anymore). This noise is different from the "cavity noise", which is the noise transmitted from the rims to the interior of the car.
Vulcanized tire barcode label
Vulcanized tire labels are a type of bead barcode label that are applied to the bead of a tire prior to vulcanization. The label should provide a high printing quality and legibility, even after the vulcanization process and should remain strongly bonded to the tire during the lifetime of the tire. The material should be able to resist extreme conditions.
Tire specific details such as date of manufacture, safety and performance ratings, etc. can be tracked using the barcode.
Additionally, tire vulcanization labels can function post manufacture. Some automated tread label systems source information from the barcode as tires pass integrated scanners—accessing variable data necessary to print the tread label.
The new EU Regulation
From 1 May 2021 the new EU Regulation 2020/740 (replacing the current Regulation (EC) 1222/2009) is designed to help us make fuel savings, improve safety and decrease noise pollution, as it will become mandatory for the tire labels to show fuel efficiency (for both internal combustion vehicles and electric ones), wet grip, external rolling noise.
– What's changing?
Under the new regulation tires will no longer be allowed in classes F and G for rolling resistance and for wet grip, which is why the new scale has only 5 classes (A to E). The new energy symbols for the fuel efficiency will be applicable to both internal combustion vehicles and to electric ones. In the bottom part, the noise class is always indicated, with the value of external noise level in decibels.
In addition to the standard label, there will also be options for including (next to the noise icon) an icon relating to grip in icy conditions and/or severe snow conditions. This will give consumers 4 label options in total.
Tires suitable for severe snow conditions will bear the "3 peaks and snow" or "alpine" symbol that is also present on the sidewall of such tires. Nordic winter tires for use on iced surfaces will feature a new symbol that represents an ice stalagmite.
Labels must be clearly visible to consumers, be on display in all situations where tires are being sold, including online, and should provide a QR code for easy scan.
Bus and truck tires will also be covered, as the new labelling scheme would also apply to heavy-duty vehicles (so-called C3 tires), which are currently not covered by EU labelling requirements.
In the future, information on mileage, abrasion, retreaded tires and on snow and ice grip will be added to the labels. Mileage and abrasion performance data would be included when a testing method becomes available (the abrasion of tires during use is a significant source of micro-plastics, which are harmful to the environment).
– How does it affect you?
The regulation has changed the perspective of brands on the label quality. European owners of passenger cars, light trucks and heavy commercial vehicles are now able to evaluate tires based on their safety and environmental performance, as well as their cost.
Since the regulation is compulsory, there is a growing recognition among leading tire manufacturers that consumers will judge the brand by the appearance of the label. Tire brand owners will need labels that look good, resist curl and stay in place all the way through to the end customer. The label quality will play a greater role in shaping or supporting the brand image. Labels that are stained, peeling or bubbling deliver a lower perception of tire quality and brand image.
New tire label regulations drive change

Larger labels deliver new brand challenges for brands. The size requirements for the new EU tire labels are clear:
the label must be a minimum of 7.5 cm wide by 11 cm high (2.9 x 4.3 in) and
the colors and design of the label cannot be changed.
Tire suppliers have limits on the space available for brand information:
the label can be no longer than 22 cm (8.66 in);
surface area cannot exceed 250 cm, or 98.4 square inches.
Therefore, a rough, low energy surface makes label application critical.
As a result many manufacturers are moving from hand application to machine-direct application to increase label laydown and proper orientation.
– Why choose Gravic's tire labels?
Extensive segment experience on the part of the label manufacturer is a plus, as are rubber-friendly, higher adhesive coat weights, production-friendly gum patterns to eliminate bleeding and backside siliconization to avoid labels sticking to a liner. Missing labels mean lost profits and potential compliance fines.
Precise label positioning and a robust design makes the precured tire labelling applicator the best choice for worst environmental conditions.
Furthermore, particularly thick label facestocks plus special topcoatings prevent shrinking problems during the vulcanization process. Once the tire has been vulcanized, the label becomes a part of the tire – thus guaranteeing identification during its entire life.
Being based in the European Union, Gravic complies with all European Union regulations and can offer you strong product and application support.
The right tire label materials
At Gravic, we use cost effective, high performance pressure-sensitive label materials, which are designed to bond with a tire during the vulcanisation process. The materials we use meet all the specifications of durable tire vulcanisation labels:
Specially designed rubber-based adhesive, which ensures:
Superior adhesion on green tire, where label is applied prior to vulcanisation
Optimum bonding during the vulcanisation process
Superior chemical resistance for long term durability

Optimal face material ensures:

Resistance to vulcanisation heat
Excellent TT printability for barcode reading
High chemical resistance for long term durability
Abrasion resistance for long term durability
Our chosen products use a special feature of the polypropylene film that is designed to resist migration of low molecular weight components and carbon black from the tire surface. This allows the label to stay on the tire and avoids curling away over time.
A high coat-weight adhesive ensures good initial tack to the tire. The adhesive is supplied in a customer-specific gum pattern to minimize the bleeding of the reels. The liner is siliconized on the back so the label does not stick to the liner as it unrolls in the automatic dispensing process.
Efficiency is also improved when applied by hand: 50 percent more labels can be applied due to the shorter time needed to adhere.
Gravic's tire labels
Gravic's labels work well in harsh environment, are resistant to high temperatures up to 210 ° C and can be vulcanized simultaneously with the tire. After vulcanization, the bar codes stay attached to the tire.
Our tire labels:
can accompany the entire life cycle of the tire,
will not deform,
will not discolor,
are waterproof,
are resistant to acid, alkali, salt, low fat solvent and most petroleum grease,
offer wear resistance,
are resistant to high and low temperatures
The barcode is printed clearly, and the barcode scanner or the inventory machine is accurate and the reading rate is 100%.
Our tire labeling range tackles the issue of low energy surfaces of tires that makes them one of the most difficult of labeling applications. The range includes tread labeling materials and thermal transfer (TT) vulcanization labels designed to perform optimally in applications that pose the most difficult dispensing challenges.
The specifications of our tire labels:
Extremely sticky glue
High durability
Withstands harsh environment, such as curing up to 200 degree C
Excellent printing quality
Barcode is still scannable after curing process
The sticker remains bonded to tire after curing
Water resistant
Get in touch and benefit from Gravic's experience
Ultimately, the choice of a label material will depend on its size, tire size and specification.
Here at Gravic, we will together develop the most appropriate tire labelling solution that will suit your needs.
To find out more, contact our expert now for a quote.
Key phrases:

Vulcanized Adhesive Labels for Tires, Vulcanized Adhesive Tire Labels for Printing
Printed Vulcanized Label with Bar code and QR, Barcode Printing Vulcanized for Tires Tracking
Hot Tags: printing customized vulcanized adhesive labels for tires, manufacturer, supplier, vendor, maker, factory, printer, customized, custom, price, buy, high quality, free sample
We are grateful for our close collaboration, and we are committed to continuing to evolve and progress to meet your requirements!
Improve your life with Gravic!