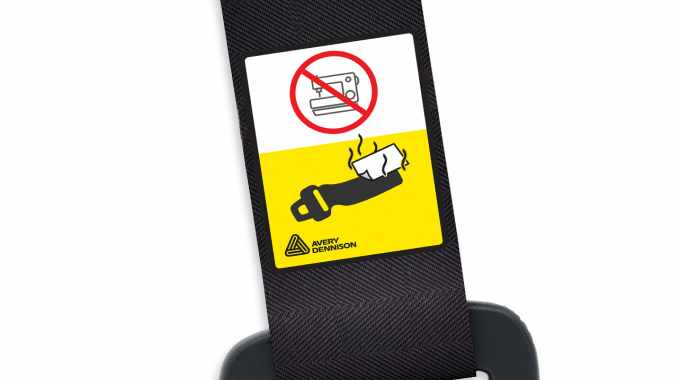 Heat sealed and heat activated labels
In a safety-critical automotive industry, warning and identification labels applied to seat belts and sun visors must offer a very reliable performance. These labels must not only adhere permanently to the base material, which is usually both rough and flexible, but also offer UV resistance and flame retardancy.
Traditionally, the required label would be printed directly onto the required part or material. Alternatively, the ink would be applied to it through heat transfer. But there is a third solution: our innovative adhesive, which creates a permanent bond that keeps your high-performance labels in place.
Thanks to our low-tack, acrylic, heat-activated adhesive, which is coated onto a cast PVC film and protected with a glassine liner, the label has the look and feel of a standard label with a removable adhesive.
Our heat activated adhesive labels are:
suitable for applications on woven and non-woven textiles used in several automotive and industrial applications
suitable for adding variable data prior to heat application using standard thermal transfer ribbons
can be printed and die-cut like any other label material
designed to cross-link with the base material to form a permanent structural bond
UV resistant and flame retardant

A plethora of applications and benefits
We are always developing new technologies to bring additional functionality or create entirely new ways of doing things, such as:
a heat-activated adhesive for automotive textile labeling.
a clear non-yellowing hotmelt adhesive for chilled food applications;
a reclosure adhesive with high solvent resistance for household wipes;
a compostable adhesive for fruit and vegetable packaging and
Our adhesives offer our customers many benefits, from productivity improvements through to enhanced look and feel. Important sustainability gains can also be made with the right adhesives.
High performance label solutions for tire vulcanization
During manufacturing, tires are labeled with small bar codes on their sides in order to help the tracking of raw materials and process details throughout the supply chain. These bar code labels are first applied to the inelastic 'green tire' and vulcanized into the rubber substrate during the curing process.
Our specially designed labels are engineered to bond with the tire during the vulcanization process and maintain excellent adhesion and readability throughout the lifespan of the tire. Able to withstand rigorous tire inspections, sorting and shipping demands, our labels will enhance the tracking of your product throughout the manufacturing process.
The vast majority of our customers choose to digitally print their variable data vulcanised labels with us in-house, simply supplying us with their bar code sequences. We ensure that no labels are missing and no data is repeated. As we are able to print 'to the edge', the scanners can read our labels with greater ease.
The benefits are clear:
Print 'to the edge' of the label for better scanner readability
Traceability of the unique bar code sequence (no missing or repeated data)
Optimal adhesion and bonding to green tire during vulcanization
Ability to withstand the pressure and heat of the curing process (up to 200˚C)
High abrasion and chemical resistance to acids, bases, salts and low-fat solvents designed for superb identification throughout the supply chain.
Excellent thermal transfer printability of the barcode
Get in touch and benefit from Gravic's experience
As the choice of the heat activated adhesive label is greatly dependent on its application and your detailed requirements, Gravic will advise and to work with you to find the most suitable solution that will suit your needs.
To find out more, contact our expert now for a quote.
We are grateful for our close collaboration, and we are committed to continuing to evolve and progress to meet your requirements!
Improve your life with Gravic!