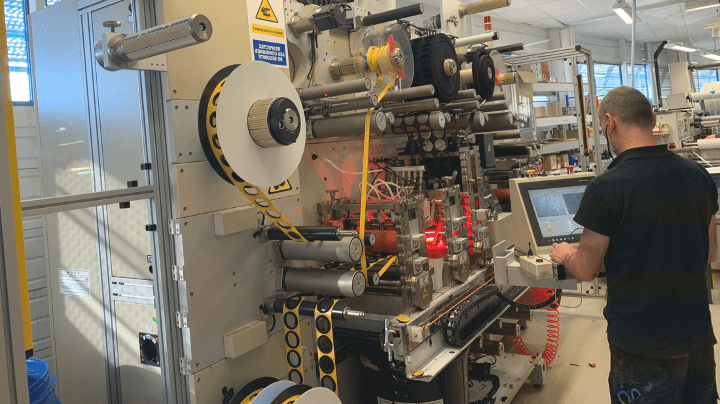 Die-cutting technology
Die-cutting
is a technical name for changing the form of raw materials, for press-cutting them into the desired shape. It's the key step allowing Gravic to complete the final product.
At Gravic, we buy raw materials in bulk, in a flat or rolled-up form, which we then cut to shape (using a pressing knife, a plotter or a laser), combine and multi-layer (using adhesives, etc). Thanks to our die-cutting machines, you can have tailor-made designs to suit the specific needs of our customers.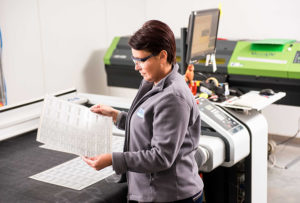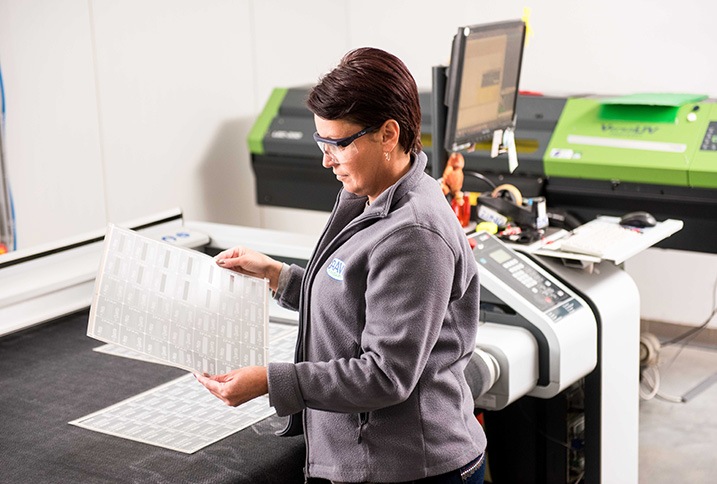 Choice of materials
The type of materials used for die-cutting depends on the volume and tolerance as well as purpose, qualities and benefits of the finished product. We die-cut the following materials:
– sheet metal- up to 4mm thick
– plastic
– paper
– rubber
– fabric
– felt, fibre and cloth
– polyester
– polypropylene
– polycarbonate
– films
– pressure-sensitive adhesive tapes
– foam (PU, PE, EPDM, silicone, basotect, neoprene, polyether, PVC)
– plexiglass (PMMA)
Benefits of die-cutting
Die-cutting enables us to produce customized shapes repetitively, to a high precision and with extremely low tolerances. It saves our customers time in their own production lines and gives them reassurance that the finished product will meet their needs.
Thanks to die-cutting, the consumption of raw materials can be estimated accurately during the lifetime of the project, helping us maintain competitive pricing and ensuring top quality of the finished products:
– Our die-stations are servo-driven so that we can achieve excellent dimensional accuracy and registration when die-cutting our multilayer laminates or printed products
– Manufacturing our products on a medium to high scale is easier to manage
Die-cutting technologies
At Gravic, we are equipped with the complete and most up-to-date range of cutting technologies. Based on your product requirements, selected material and the quantity to be produced (from prototype to high volume) we will propose you the most adequate cutting solution: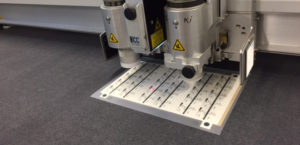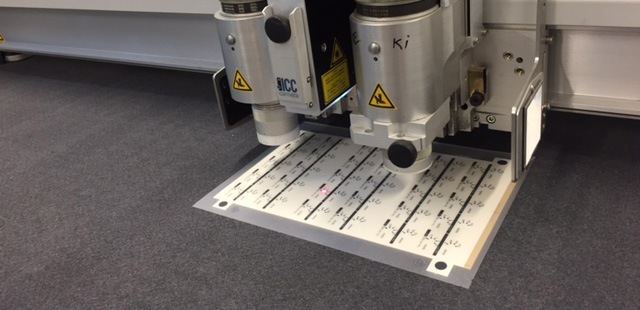 – Digital cutting – perfectly suitable for manufacturing prototypes or small-volume runs. This kind of cutting is carried out by a plotter, equipped with a computer-controlled blade. This process offers great flexibility and low fixed costs. Standard tolerances on dimensions is +/- 0.15mm
– Laser cutting – a cost effective solution without tool, low to medium volume production and with capabilities of cutting up to 0.5mm thick substrates. Standard tolerances on dimensions is +/- 0.3mm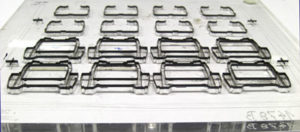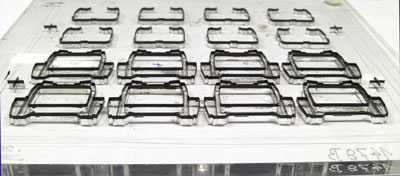 – Digital milling – a complementary solution to laser cutting when the material is too thick or hard and cannot be cut with other technologies.
– Flat bed dies – used for small and medium scale production, for all kinds of flexible materials up to 5 mm. Standard tolerances on dimensions is +/- 0.3mm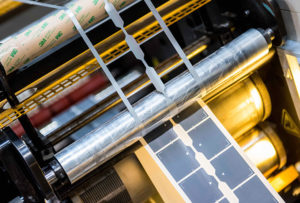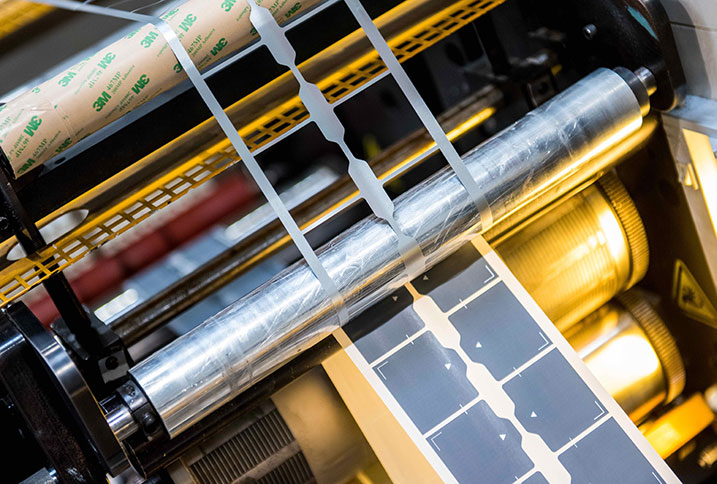 – Rotary or semi-rotary tools – used for medium and  high-volume productions on thin materials. They can be made up of magnetic cylinders on which the engraved cutting plates (dies) are fixed or of cylinders that are themselves engraved in the form that is to be cut. In addition it can be equipped with an air-based ejection system in order to avoid manual sorting. These tools work with a cutting precision of 0 0.2 mm and have a considerable life expectancy. The elevated cost of these tools destines them for high-volume production.
Die-cutting shapes and sizes
At Gravic, we can die-cut almost any desired shape and size. Each shape is individually designed and, depending on the complexity of the shape as well as the order volume, the appropriate machine is used to achieve the final shape. You can select your preferred layout of the finished die-cut products and receive them in either a roll format or as individual pieces.
Die-cutting benefits our industries
Die-cutting is the key step to complete the final product. It ensures an extremely precise cut, which allows for the finished product to be easily incorporated into production. This precision is particularly important for all the industries we work with:
– IT
– Electrical and Energy
– Electronics and Electrical household
– Information and Telecommunications
– Medical
– Cosmetics
– Industrial and Packaging
– Automotive industry
Latest investment
Gravic has recently made a big investment into the latest die-cutting machinery, the 1st of its kind in Eastern Europe. It has allowed us to deliver medium to high volumes of multi-layer die-cut products manufactured to high precision and ensured low material wastage.
To find out how you can improve your life with Gravic contact our expert now for a quote.
Did you know?
Where does the die-cutting name come from?
The origin of the word dates back to 1300-50, middle English "de". In Latin, the word "given" is datum. The word die, as it is today, in this context, presumably, comes from this origin, "given, put, placed" therefore also meaning "played, or cast."
In that day and age, dies referred to stamping processes like creating coins or casting of items – usually in metal – made from dies. In the 1800's, a new invention was created for mass production – die-cutting. The old term "die" (creation by machination) was combined with "cut" (the act of cutting out a shape) to create the term "die-cutting". It is unknown who first coined the term "die-cutting" which appears in the English lexicon in the mid-1800s.
Did you know?
History
Die-cutting was invented in the mid-1800s in order to help streamline the shoemaking industry. Since cutting the soles of shoes was formerly done by hand, typically out of leather, the process was time-consuming, laborious, and expensive. The invention of the die-cutting machine revolutionized work for cobblers and made shoes much more consistent as shapes were always cut the same size, the same way, instead of by hand. This meant that shoes could now be given standard sizing.
In the early 1900's, as technology advanced, so did the die-cutting machine. The invention of the hand crank die-cutting machine made it possible to have different sizes and shapes of dies, meaning cobblers could create any part of the shoe they needed by machine – and the same machine at that. Shoes became easier to make and also much more affordable to all people.
It wasn't until 1977 that the first hand-operated die-cutting machine for consumers was invented, by Bob and LaDorna Eichenberg, the creators of Ellison. Since then, die-cutting machines have continued to grow and transform.
We are grateful for our close collaboration, and we are committed to continuing to evolve and progress to meet your requirements!
Improve your life with Gravic!