Technical and functional foam
GRAVIC provides you with custom solutions for cutting and laminating technical foams and technical elastomers (such as poron foam) that fulfil different functions:
Thermal protection
Sound protection
Electrical protection
Impact protection
Vibration absorption
Anti-slip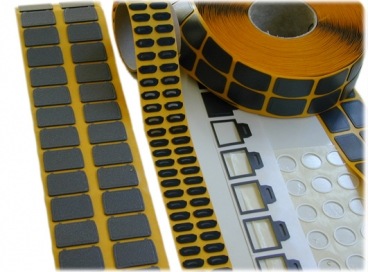 Gravic cuts and supplies high-performance foam parts in a wide range of thicknesses, densities, compression resistances, and colours, to meet your most exacting requirements. Our designs may also include self-extinguishing foam treated with fire (compiant with the UL94 V0 standard for some materials)
Depending on the application, foams may be with or without laminated adhesive.
TYPES OF APPLICATION
Electronic devices and equipment
Industrial equipment
Automotive
Aviation
Bumper pads, feet
Chocks
Light guides
TYPES OF MATERIAL
Polyethylene (PE), Alveolite foam
Polyurethane (PU), Korel foams
Polypropylene (PP) foams
PVC foams
Laminate foams
Silicone,  Bisco foams
EPDM   foams
Poron  foams
Rubber, EPDM, silicone
Why use technical foam?
 Technical foam is useful in many different situations and industries. Its main advantage is for the protection of fragile parts or objects.
Indeed, being particularly flexible, it absorbs shocks caused during transport and storage. It is used for the packaging of certain products, such as jewellery boxes, wines and spirits, as well as in the automotive sector.
Trust Gravic for your technical foam
Gravic cuts and supplies parts in high-performance technical foam in a wide range of thicknesses, densities, compressive strengths and colours to meet your highest demands. The self-extinguishing capacity of the foam when exposed to a flame can also be taken into account in our design (compliance with the UL94 V0 standard for certain materials).
Depending on the applications, the foams can be provided with or without laminated adhesive. Gravic, the experts in technical prints and cuts, is at your service for your cutting needs for insulating material and technical foam.