Mainly used in the fields of transport (aeronautics, railways, automotive etc.), medicine and electronics, silicone foam gaskets are high-quality materials that enable you to solve all your sealing, insulation and absorption problems in extreme conditions. This is particularly the case for Rogers foam or Bisco foam that Gravic, specialist in die cutting technical insulating materials, offers you for your protection solutions.
Available in both open and closed cell versions, these silicone foams are ideal for use in high temperature resistance, fire resistance, chemical resistance, mechanical resistance and UV resistance. You can use them to protect your products and equipment by incorporating our technical foams into your production line.
As a preferred partner and converter of Rogers Corporation, Gravic offers a wide range of Rogers silicone foams die-cut and bonded to your specifications. All of our Rogers Bisco foams can be customised: please contact our experts to discuss the best solution for your project.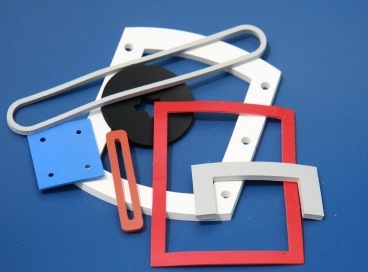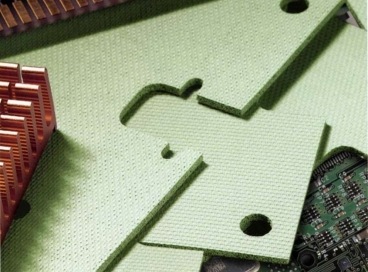 These foams, available with open or closed cells, are perfectly suited to your constraints for high temperature resistance, fire resistance, resistance to chemical products, mechanical resistance, and resistance to UV.
As a preferred partner and processor for Rogers Corporation, Gravic offers you a wide selection of unique, pre-cut Bisco foams with adhesive, for your:
TYPES OF APPLICATION
Silicone watertight seals
Thermal screens
Fireblocks
Sound absorbing cushions
Anti-vibration gaskets
TYPES OF MATERIAL
Rogers Bisco foam HT-800, HT-805 foam
Rogers Bisco cellular silicone foam
Rogers Bisco solid silicone foam
Acrylic adhesive
Silicone adhesive
What are the properties of Rogers Bisco foams processed by Gravic?
Bisco silicone foams are produced by Rogers Corporation and are therefore known as both Bisco and Rogers foams. These foams are very popular in the industrial world for their multiple sealing properties, particularly acoustic, while offering good protection against vibration and shock. It is for this reason that silicone foam gaskets are regularly used in the design of electronic devices.
Rogers Bisco foams are not just sealing or acoustic gaskets, they are also highly resistant to external stresses such as high temperatures, prolonged exposure to UV light and contact with chemicals. Their versatility and resistance is complemented by the ease of laser cutting: these silicone foams are therefore ideal for any industrial assembly process aimed at reinforcing your products, among other uses.
Why incorporate silicone foam seals into your production line?
Ensuring the protection and sealing of your products is a necessity, especially for devices that are particularly exposed to this type of stress that can affect their performance. Historically, silicone foam gaskets have been used in electronics to prevent intrusion of water or dust. Their role as an electrical insulator is also important to ensure safe use of the product.
Shock absorption is another great advantage of silicone foams, especially for products or appliances whose parts may be subject to opposing pressures or collisions during use. They are used in transport, mechanical engineering and many other industrial sectors. If you would like to speak to a Gravic expert to determine the type of silicone foam seal that is right for you, please contact us.