The high-temperature resistant label is resistant to heat due to various production constraints. It is generally used for tracking of electronic chips during wave soldering. This type of  adhesive label is blank, and can be personalised directly by the customer, who may place a bar code, a serial number, or a Datamatrix code on it. These high-temperature resistant labels are appropriate for automated placement on products.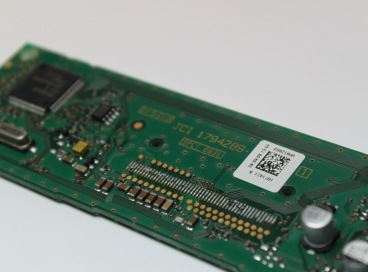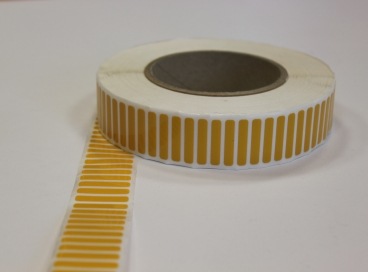 Depending on the maximum temperature reached and the duration of the cycles, Gravic can offer you the most appropriate material. In extreme cases, we can offer ceramic high-temperature resistant labels, which can withstand over 1200°C. The most popular product families are the following:
Kapton polyimide label
This label resists peak temperatures of over 300°C, and constant temperatures of 280°C. Kapton is naturally an amber colour, and with an additional coating, it can be coloured white, yellow, green or blue. The standard thickness is 50µ, but for most applications, 25µ is sufficient.
Acrylate label
This label resists peak temperatures of over 270°C, and constant temperatures of 220°C. This type of material is more economical than kapton, and is used as insulation, for example, for mobile telephone SIM cards. The stainless steel solder tracks in SIM cards require resistance to temperatures of over 270°C during operation.
Thermo-stabilised polyester napthalate (PEN) labels
This material resists temperature of up to 180°C, making it highly resisstant. It is most often used for insulation applications.
TYPES OF APPLICATION
Tracking
Identification of electronic chips
Printed circuits
SIM card insulation
Heat sinks
TYPES OF MATERIALS
Kapton
Polyimide
Acrylate
PEN
Ceramic