Electrical cable identification labels
The cable identification label is an identification solution that allows, for example, an employee to identify cabling in their work area, or a technician to quickly identify the use of each cable. These labels can also be used as a security label, allowing the user to be alerted to a particular characteristic or potential danger: it is indeed possible to add identification information (earth symbol, danger summary, etc.) or traceability information (bar code) to a cable or pipe.
Good marking is therefore essential to ensure that your various electrical cables are highly visible and thus improve the efficiency and safety of your installations during daily use as well as during any technical maintenance. Gravic, specialist in industrial identification solutions, is at your disposal to produce, print and cut to size various flexible materials to identify your cables.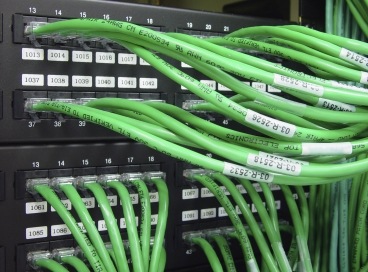 We offer several primary cable identification solutions:
Heat-shrinkable labels
When heated, the label shapes itself to the material it is placed on.
Self-adhesive label
This is generally placed as a "curtain" around the cable, so that it adheres to itself.
TYPES OF APPLICATION
Identification of electrical cabling
Identification of electronic/computer cabling
Identification of pipelines (gas, oxygen, etc.)
TYPES OF MATERIALS
PVC / Vinyl
Permanent, removable adhesive
Heat-shrinkable vinyl
Cable identification label: some examples of possible uses
The fields of application for cable labels are diverse as they can be used for identifying electronic electrical wiring as well as other types of pipes and ducts. Depending on the product to be marked, there are different fixing systems to ensure durable identification without risking damage to the cable or conduit. This is because the equipment must be preserved as much as possible so as not to impair its function or pose a safety risk. Cable identification labels are therefore ideal, easy to apply identification solutions that are safe for your equipment.
Gravic offers two main types of labels for cable identification: the heat-shrink label is ideal for quality and durable marking, as the label adapts to the dimensions of the cable concerned under the effect of heat. The self-adhesive cable label is very useful for marking your electrical cables, an economical and easy-to-deploy solution that can also be removed as required. The highly durable self-adhesive cable label is usually applied "flagged" around the cable, being glued to itself.
Why choose Gravic for your cable identification solutions?
As a label manufacturer for over 50 years, Gravic has a unique expertise and understanding of industrial requirements to provide you with the right labels for your needs. To ensure your cables are properly identified, we have a wide selection of industrial identification labels that meet current safety standards and offer a high level of durability.
Would you like more information about our products or do you have any questions about our cable and conduit labels? Don't hesitate to contact an expert to discuss your project. We will offer you a tailor-made marking and fixing solution according to your specifications, your needs and the specificities of the cables to be identified.