Film protection for screen
A screen protection foil or film provides a solution for invisible protection of the surface of the screen from scratches, fingerprints, impacts, and any external stresses. Therefore, this is an economic solution that is easy to apply and protects your devices from getting damaged during transportation and usage.
This premium quality touchscreen protection foil is easily to apply manually or automatically, at the same time ensuring a completely flat surface that is free from air bubbles. Its highly effective resealable adhesive also ensures that no glue residues remain stuck to the screen. Gravic protection foils can be both personalised and tailor-cut to suit your exact needs. Their other advantages are their customized printing and expiry date tags.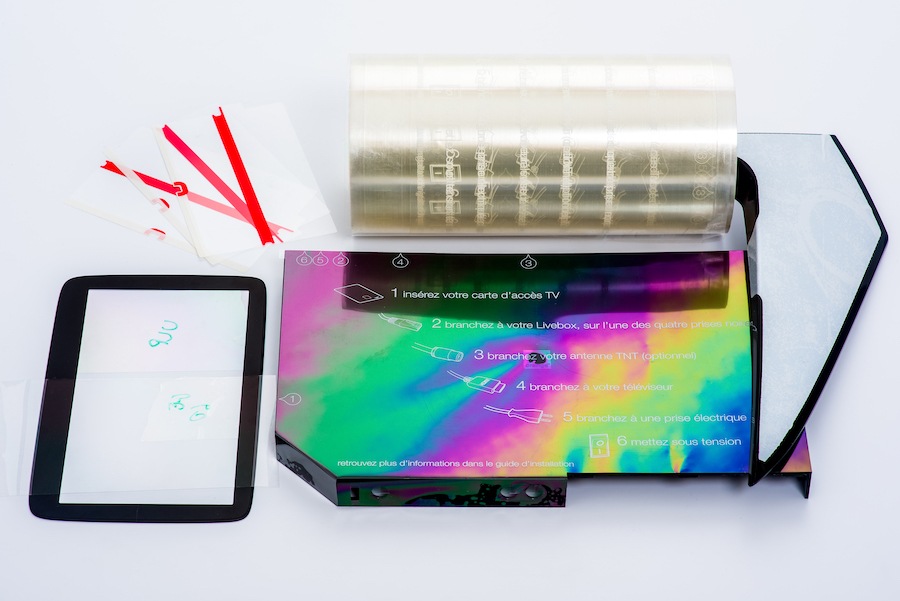 The mark of high quality in a protective film for touch screens is its ease of manual or automatic placement, which ensures a smooth surface, free of air bubbles. Its high-performance removable adhesive guarantees that no residual glue remains on the support.
Gravic can offer you customisable printing onto these films, and an application spline.
TYPES OF APPLICATION
Mobile telephone, tablet, computer screens
TV screens
Automotive, GPS displays
TYPES OF MATERIAL
Electrostatic PE
Removable adhesive PE
Adhesive PE
Why put a screen protection foil on your devices?
Screens are fragile components: the slightest knock can scratch or break them, and they are especially sensitive to dust or water. To make your screens (and therefore ultimately your devices) more durable, adding a screen protection foil is strongly recommended. This protection will be effective at every moment, from the production phase to product transport and end usage.
Gravic, a specialist in material cutting techniques, can supply you with protection foils that are adapted to your specific terms of reference. Our films are pre-cut to fit the dimensions of your screen as well as all components, buttons, or interfaces that the foil should not cover. Moreover, our screen protection foils can be printed in a personalised design, for example if you wish to have a logo or slogan displayed on your screen.
Can I include a protection foil application stage in my production line?
We attach great importance to the ease with which our screen protection foils can be applied. Whether your application process is automatic or manual, our adhesive films can always be re-sealed if necessary and they do not leave any unsightly glue residues on your screen. You can therefore add a protection foil application stage to your production processes without needing to worry. If you are looking for a more temporary solution, such as a foil to be removed later by the end user, do have a look at our removable foils, since these might be more suited to your needs.